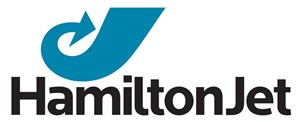 Contact For New Buildings
Contact For After Sales (Spares & Technical Services)
With over 60,000 waterjet units installed around the world, HamiltonJet represents the latest in waterjet propulsion technology. They are the preferred choice for the efficient propulsion of a wide range of high-speed work and Patrol boats, Fast ferries, Offshore crew boats, Fire boats, Fishing vessels, Recreational and Military craft.
HamiltonJet – through the innovation and inspiration of Sir William Hamilton – pioneered the development of the commercial waterjet over 70 years ago, and today each model is designed and built to the standards of the world's leading certifying authorities. The manufacturing plant includes in-house foundries for casting both stainless steel and aluminium, modern machining facilities and extensive testing and inspection procedures.
Waterjets
The HamiltonJet waterjet is one of the most advanced and innovative marine propulsion systems in use today and is at the forefront of waterjet propulsion technology. Now they are also consistently delivering vessel autonomy solutions in conjunction with their waterjet technologies.
The HamiltonJet Waterjet is particularly suited to high speed planing vessels operating in the 20 to 50 knot range but can also be successfully used in displacement speed vessels in certain situations.
It is important to understand that waterjet propulsion operates quite differently to conventional propeller propulsion systems.
This results in many advantages, along with a few disadvantages, when compared to propellers for any particular application.
www.hamjet.co.nz